Evalo WordPress Theme is the beautiful Multi-Concept Landing Pages Pack for any businesses, freelancers, agencies, consulting, photographers, portfolio sites. Everyone can find a suitable page for itself. We have tried to create the big set of components and styles for your awesome website.
Evalo WordPress theme includes an excellent blog listing, blog single, project single, projects and much more. Hope you will be happy for the technical aspect of our awesome theme. Evalo is powered by Bootstrap v5 and CSS framework. Compatible with all modern browsers and devices. Fully responsive with all devices, mobile, tablet and desktop, laptop. It will give you the best user-friendly experience. We implemented here clean and valid code. The theme features and its various options give you an amazing opportunity to interact with your clients and customers.
Images shown in theme are for demo puposes only. Actual Package does not include those images.
Installation
To install this theme you must have a working version of WordPress already installed. Below are some useful links regarding WordPress information.
To run WordPress we recommend your host supports:
PHP version 7.4 or greater.
MySQL version 5.6 or greater OR MariaDB version 10.1 or greater.
HTTPS support
That's really it. We recommend Apache or Nginx as the most robust and featureful server for running WordPress, but any server that supports PHP and MySQL will do. That said, we can't test every possible environment and each of the hosts on our hosting page supports the above and more with no problems.
Please read more from here.
Sometimes you may get some errors while installing our theme, importing content, or activating plugins like white screen or PHP errors. They may be caused by low PHP configurations limits. In this case, you need to increase some values. You can do this on your own or contact your hosting provider with the following requirements:
max_execution_time = 600
memory_limit = 256M
post_max_size = 32M
upload_max_filesize = 32M
max_input_time = 300
Evalo theme can easily install from admin panel. Be sure to read through and follow those instructions for the successful installation of the Theme. If your Theme does not work after following any provided instructions, please contact the Theme author for help.
You can download Evalo theme from themeforest download link directly, please download the WordPress theme only to get the theme files.
There are two ways to upload any theme to the WordPress site: the Admin panel and FTP. The most recommended way is uploading via the Admin panel. However, sometimes there may be a size limitation for files uploaded. That is why this manual provides both ways:
1. Install via WordPress Admin panel
After you download the package from ThemeForest, please unzip it. You'll see a file called evalo.zip, which is the main file needed to upload and install.
Sign in to your admin panel at yourdomain.com/wp-admin
Navigate to Appearance > Themes > Add New > Upload Theme
Choose evalo.zip file
Wait while the theme is uploading, install and activate it.
Make sure the ZIP file contains only folders and files of the theme and not the inner additional ZIP.
2. Install via FTP
Using an FTP client (like FileZilla), connect to your server/hosting and navigate to your WordPress installation.
Navigate to /wp-content/themes/ folder and upload the theme folder there (you need to unzip the theme evalo.zip package first).
Locate your WordPress installation and upload the theme directory evalo (you unzipped in the previous step) into ../wp-content/themes/ in your WordPress installation.
Log in to your WP Admin Dashboard and go to Appearance > Themes
You will now see Evalo listed among the other themes. Just activate it!
A child theme allows you to change small aspects of your site's appearance yet still preserve your theme's look and functionality. To understand how child themes work it is first important to understand the relationship between parent and child themes.
Evalo is fully child theme compatible. We have attached a basic child theme(evalo-child.zip) to the download package which contains the minimum of required files. If you are planing any code customizations we highly recommend to do this inside the child theme! You can get more information about Child themes and their application in Child Themes.
After installing and activate the Evalo theme, you'll see a notification in the top of the page that says the theme needs some plugins to function properly or You can go to Admin panel > appearance > install plugins, just click on checked all plugins and click to install. That's it. All plugins will be installed one by one. Then with the same procedure activate all plugins.
After installing required and recommended plugins please go to Admin panel > Appearance > Import Demo Data, here you will find the option to import the demo content button, just click on the button at the bottom of page and then it will redirect to a page, here there will be another button to "continue and import" , click on it and wait, it may take 5-10 minutes to install all the demo content.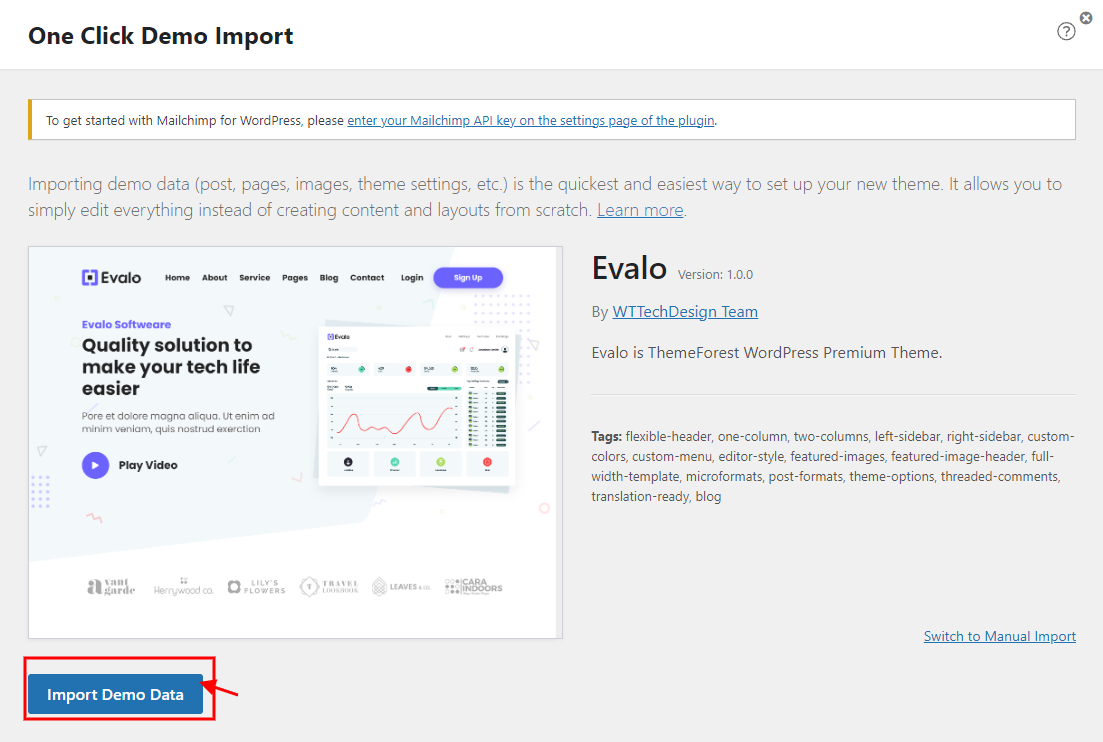 The easiest way to translate our theme and plugin in your language is by using the Loco Translate WordPress plugin. For more information please visit Loco plugin page.
Note : Notice:After updating the theme, Your content will not be lost. However, any customizations to the theme's core files, such as PHP files, language files will be lost. So you need to the child theme to customize the theme and backup the language file if you translated the theme.
Note : After updating the theme, Your content will not be lost. However, any customizations to the theme's core files, such as PHP files, language files will be lost. So you need to the child theme to customize the theme and backup the language file if you translated the theme.
If you updating Evalo theme, Please following below step and update Evalo theme and this step is very easy and simple:
1. Theme Update Automatically
You can update the theme automatically by following this link-- https://envato.com/market-plugin/
2. Manual Update via WordPress Admin panel
First Download Latest Installable theme from here.
Login to your WordPress Dashboard.
Go to Appearance > Themes. Deactivate Evalo Theme by activating a different theme.
Delete exist Evalo Theme, don't worry your content will not be lost but Must be take a backup first your old theme before delete.
Upload the latest version of evalo.zip and activate it (more info in the Install Theme section).
When modifying any theme files it is always best to use a Child theme, thus your file changes won't be lost once you update your theme (check the Child Theme section for more).
3. Manual Update via FTP
First Download Latest Installable theme from here Then extract it to your computer..
Access your server via FTP or SFTP
Browse to wp-content/themes/
Delete the current theme folder (folder "evalo") then upload the new one downloaded in step 1. (Don't forgot to upload unzip folder.)
Note : Notice:After updating the theme, Your content will not be lost. However, any customizations to the theme's core files, such as PHP files, language files will be lost. So you need to the child theme to customize the theme and backup the language file if you translated the theme.
Note : If you translated plugins and the language files are in plugins/your-plugin-name/languages/ (For example, plugins/evalowt-core/languages), you need to upload them to wp-content/languages/plugins/. If not, after updating plugins, your translated language files will be lost.
Login to your wp-admin
Go to Plugins > Installed Plugins
Now, delete those plugins which you want to update. For example, if you want to update 'Slider Revolution' delete plugins first.
After deleting, you will get a notice to install those plugins again.
Now install and activate those plugins. After installing, plugins will be updated automatically.
What can make your site slower?
1. Plugins:
When you have a number of plugins active on your site, it can slow down your site. Deactivate all the plugins except the ones included within the theme and clear the browser cache. Then, you can activate your plugins one by one and check to see which plugin is slowing your site.
2. Images:
Images are a key factor in optimizing a website. It is important to optimize your images for your website. Images with large size can slow down your site. Do not upload images in large size. For instance, if your weblog is created by images with the size 800*600, you should upload an image with the same size and not bigger.
3. Host:
Your host or sever can be a reason of your site low speed. If you are using VPS for your hosting, it can be because of bad configurations and low resources. If you are using shared hosting, you need to contact your host provider in this regard so they can check it.
3. JS and CSS Files:
You should use a cache plugin. These plugins minify your files and combine them and stores a version of the file in cache in order to reduce your server requests and as a result, it will boost your site speed.
How To Improve Site Speed ?
1. Image Optimize:
You can compress images from CompressJPEG/TinyPNG website. Visit https://compressjpeg.com Or https://tinypng.com/ and compress all images before uploading them on your website. By this process, you can decrease your website loading time and provide your visitors, a better experience.
2. htaccess Code For Better Website Speed:
If you familiar with .htaccess, you can go to the root foldef of your wordpress installation. Find .htaccess file and open it.Insert following code.
AddType application/x-font-woff .woff
		AddType application/font-woff2 .woff2
		AddType application/vnd.ms-fontobject .eot
		<IfModule mod_deflate.c>
		  AddOutputFilterByType DEFLATE text/html
		  AddOutputFilterByType DEFLATE text/css
		  AddOutputFilterByType DEFLATE text/javascript
		  AddOutputFilterByType DEFLATE text/xml
		  AddOutputFilterByType DEFLATE text/plain
		  AddOutputFilterByType DEFLATE image/x-icon
		  AddOutputFilterByType DEFLATE image/svg+xml
		  AddOutputFilterByType DEFLATE application/rss+xml
		  AddOutputFilterByType DEFLATE application/javascript
		  AddOutputFilterByType DEFLATE application/x-javascript
		  AddOutputFilterByType DEFLATE application/xml
		  AddOutputFilterByType DEFLATE application/xhtml+xml
		  AddOutputFilterByType DEFLATE application/x-font
		  AddOutputFilterByType DEFLATE application/x-font-truetype
		  AddOutputFilterByType DEFLATE application/x-font-ttf
		  AddOutputFilterByType DEFLATE application/x-font-otf
		  AddOutputFilterByType DEFLATE application/x-font-opentype
		  AddOutputFilterByType DEFLATE application/x-font-woff
		  AddOutputFilterByType DEFLATE application/font-woff2
		  AddOutputFilterByType DEFLATE application/vnd.ms-fontobject
		  AddOutputFilterByType DEFLATE font/ttf
		  AddOutputFilterByType DEFLATE font/otf
		  AddOutputFilterByType DEFLATE font/opentype

		# For Olders Browsers Which Can't Handle Compression
		  BrowserMatch ^Mozilla/4 gzip-only-text/html
		  BrowserMatch ^Mozilla/4\.0[678] no-gzip
		  BrowserMatch \bMSIE !no-gzip !gzip-only-text/html
		</IfModule>

		<ifModule mod_gzip.c>
		  mod_gzip_on Yes
		  mod_gzip_dechunk Yes
		  mod_gzip_item_include file \.(html?|txt|css|js|php|pl)$
		  mod_gzip_item_include mime ^application/x-javascript.*
		  mod_gzip_item_include mime ^text/.*
		  mod_gzip_item_exclude rspheader ^Content-Encoding:.*gzip.*
		  mod_gzip_item_exclude mime ^image/.* 
		  mod_gzip_item_include handler ^cgi-script$
		</ifModule>

		## EXPIRES CACHING ##
		<IfModule mod_expires.c>
		ExpiresActive On
		ExpiresByType application/vnd.ms-fontobject "access plus 1 year"
		ExpiresByType application/x-font-ttf "access plus 1 year"
		ExpiresByType application/x-font-opentype "access plus 1 year"
		ExpiresByType application/x-font-woff "access plus 1 year"
		ExpiresByType application/font-woff2 "access plus 1 year"
		ExpiresByType image/jpg "access plus 1 year"
		ExpiresByType image/jpeg "access plus 1 year"
		ExpiresByType image/gif "access plus 1 year"
		ExpiresByType image/png "access plus 1 year"
		ExpiresByType text/css "access plus 3 month"
		ExpiresByType application/pdf "access plus 3 month"
		ExpiresByType text/x-javascript "access plus 3 month"
		ExpiresByType application/x-shockwave-flash "access plus 3 month"
		ExpiresByType image/x-icon "access plus 1 year"
		ExpiresDefault "access plus 3 month"
		</IfModule>
		## EXPIRES CACHING ##
		<ifModule mod_headers.c>
			Header set Connection keep-alive
		</ifModule>
		<IfModule mod_header.c>
		  # 3 Month
		  <FilesMatch "\.(flv|gif|jpg|jpeg|png|ico|swf)$">
			Header set Cache-Control "max-age=7257600"
		  </FilesMatch>
		  # 1 Week
		  <FilesMatch "\.(js|css|pdf|txt)$">
			Header set Cache-Control "max-age=604800"
		  </FilesMatch>
		  # 10 Minutes
		  <FilesMatch "\.(html|htm)$">
			Header set Cache-Control "max-age=600"
		  </FilesMatch>
		  # NONE
		  <FilesMatch "\.(pl|php|cgi|spl)$">
			Header unset Cache-Control
			Header unset Expires
			Header unset Last-Modified
			FileETag None
			Header unset Pragma
		  </FilesMatch>	
		</IfModule>
		# END WordPress
		
		
Note : Note: Please don't replace any code that already exists on the .htaccess file. It may have serious implications on your website.)
3. We recommend use follow plugins to boost your site performance.:
Pages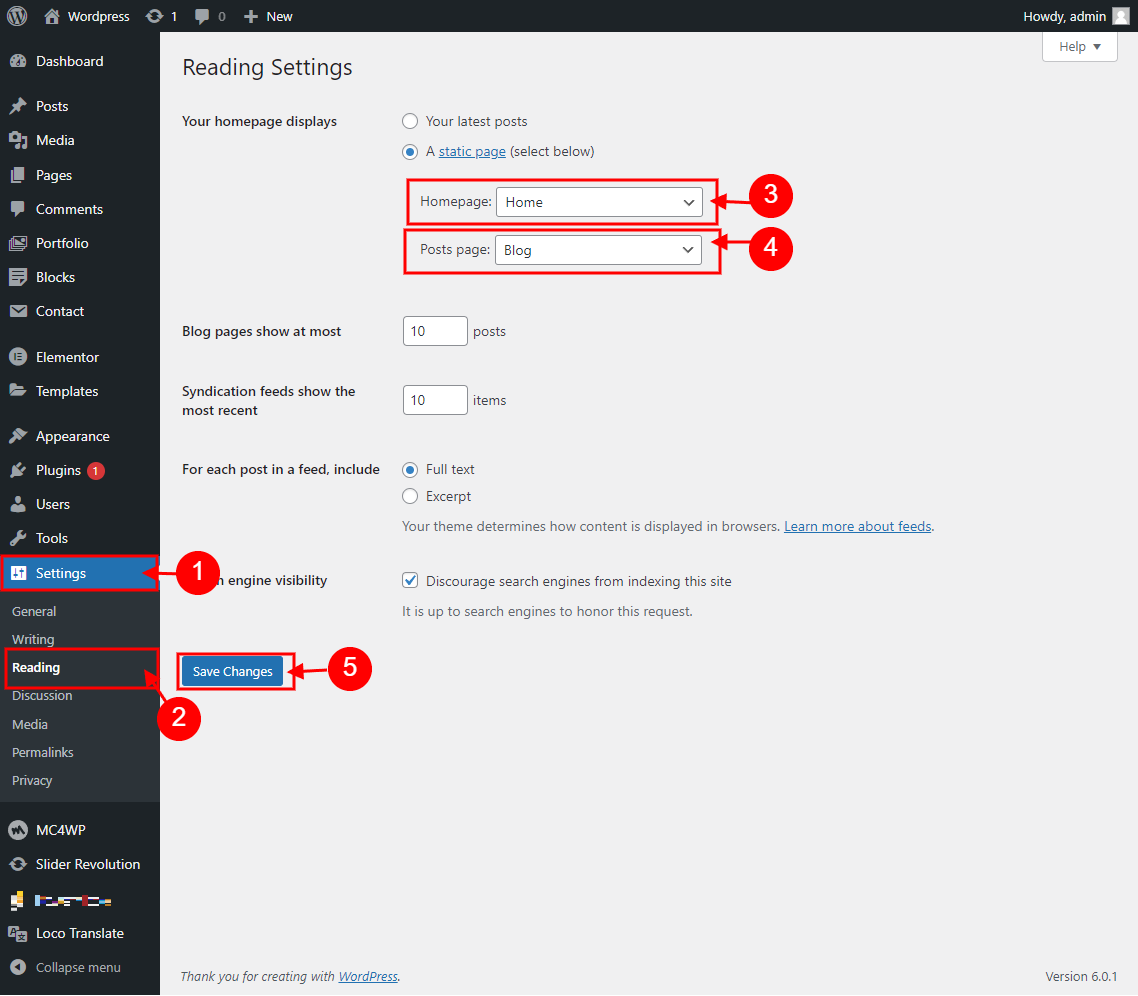 Please go through the following points to learn how to set home page:
Sign in to your admin panel at yourdomain.com/wp-admin
Navigate to Settings > Reading
Your homepage displays : Select static page
Homepage : Select home page from dropdown
Then save the settings.
In our theme we have used advanced drag and drop Page Builder(Elementor) to add content in editor. Please read more how to build the content using Elementor builder.
In every page we have set up few settings for making the page more flexiable for users, if you want you can set different header/footer in different page. Also there is an option for selecting sidebar left/sidebar right/full width page easily.
1. General Settings

2. Header Settings

3. Page Title Settings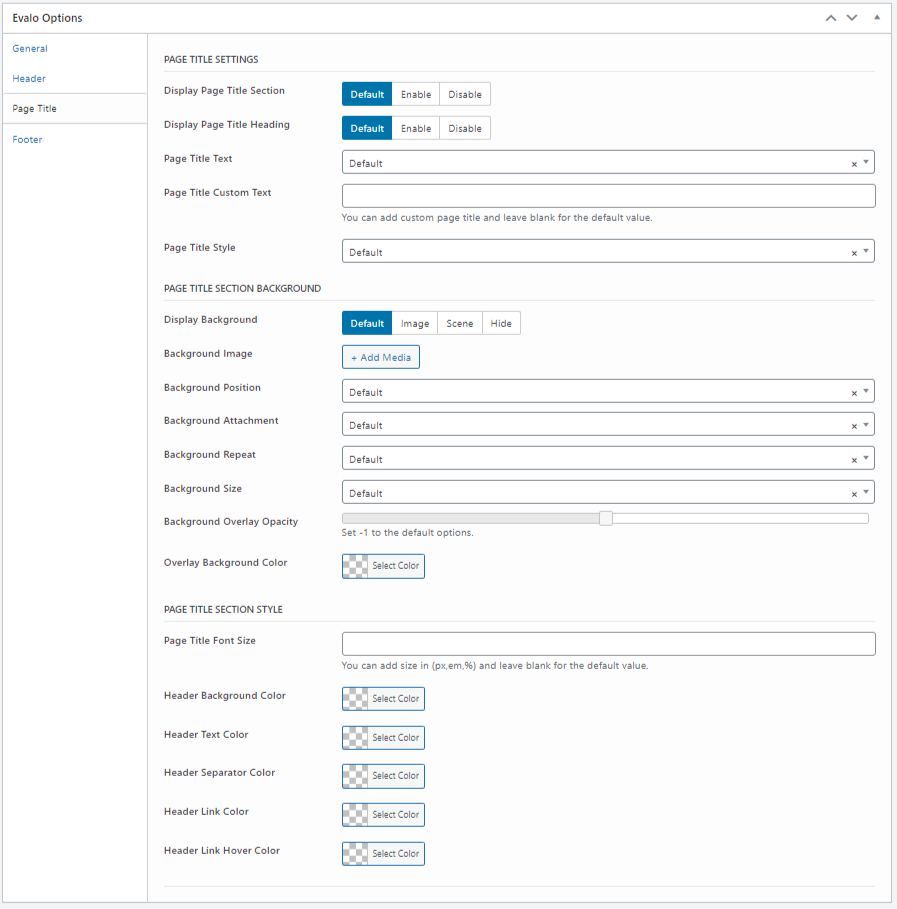 4. Footer Settings

Evalo theme comes with Elementor page builder plugin. You can easily add Elementor widgets as you want. We have created all required widgets for Elementor and it is included with theme, you just need to Elementor's Evalo section.
For getting the layout same as our demo you can setup layout size 1140px. Please see below steps of screenshots.
Elementor Widgets Settings
Evalo comes with all the required Elementor widgets. Please go to page and click on edit with elementor link from page. After loading the Elementor editor you can see there is an option added bottom of the elements called "EVALO ELEMENTS". In this area all our Elementor widgets showing.
Posts Type Settings
As Evalo comes with Elementor and we added three different posts type(services, team and portfolio), it is necessary to allow Elementor editor first. After that you can edit the page with elementor.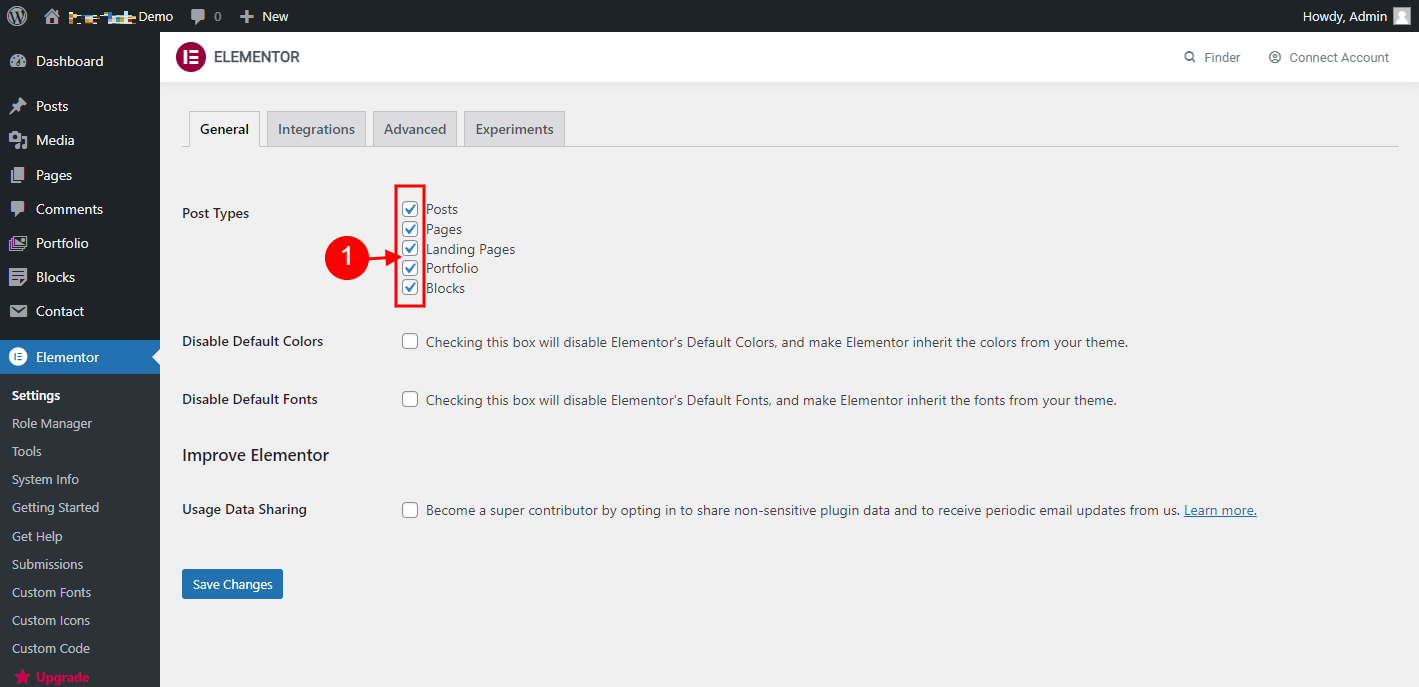 Editor Video
Elementor website builder is very user friendly and easy to use. Please see the video below.
For more help please go to Elementor Documentation
Posts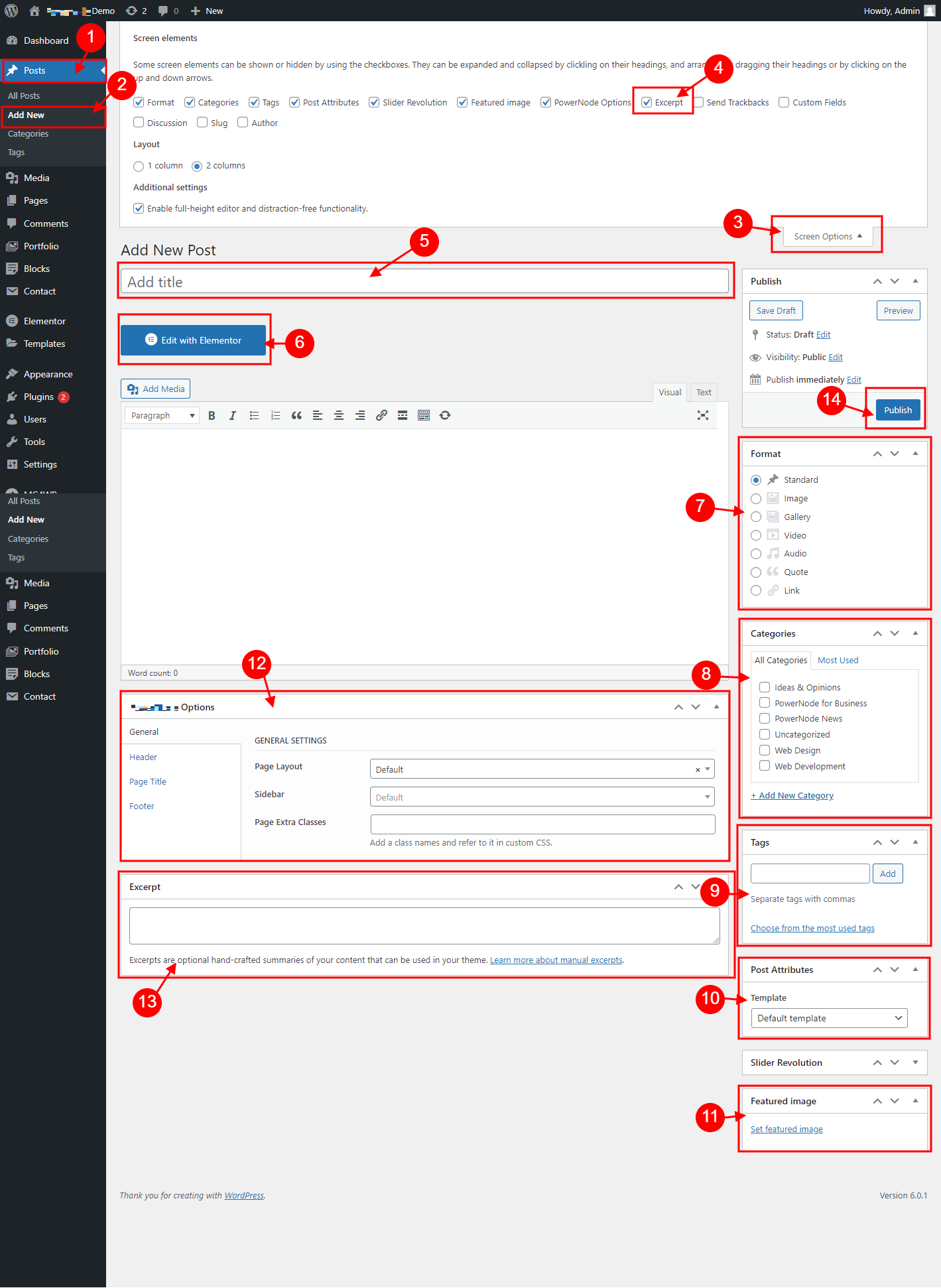 Please go through the following points to learn how to create post:
Sign in to your admin panel at yourdomain.com/wp-admin
Navigate to Posts > Add New
Click on Screen Options top right cornor.
You can see all post meta options there. Check expert for support expert in current post type.
Enter post title.
Click on back-end editor for create post with elementor.
Select post format.
Select post categories.
insert post tags.
Select post template.
Upload post featured image.
Select post meta options.
Enter post experts.
Click on publish to publish post.